Ensure your employees receive and read all important correspondence with texting. Learn more how your business can leverage the power of text messaging to improve internal communications and engage with employees more efficiently.
Mobile communication grow in importance for business. In the top ten developed countries, 73,5% own a smartphone July 2020 (source: newszoo), so how can your company embrace mobile communication and take advantage of its many uses as a communication channel?
There are more tools than ever before to communicate, but still businesses struggle to communicate with their employees in an effective way. Staying connected has never been more important to ensure business continuity.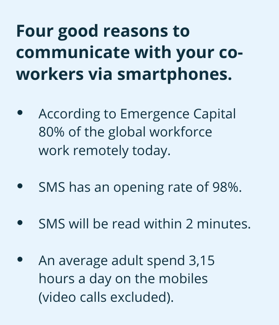 Covid-19 pandemic
When the Covid-19 pandemic hit, many employers realized that the means of communicating at work excelled the means of communicating with their staff at home. The nature of desk-based jobs is also changing at speed, allowing people to work remotely.
While email and intranets have provided a solid foundation in the past, it has become apparent more recently with a changing and dispersed workforce, that companies need to meet their employees with information when and where they want to receive it — via mobile technology. Unread e-mails might be problematic.
The use of technology and evolution of a digital workplace is key to companies staying connected to their employees and mobile communication has the capability to include every employee (desk or non-desk) in its business model.
SMS for Employee Communication
SMS is increasingly being used by companies to communicate with their employees because it is an efficient form of communications. In fact, 90 percent of text messages get read within 90 second of delivery. Business text messaging keeps people up to date and informed when it matters most. Example of text messages to employees:
Alerts & notifications
Upcoming appointments

Important corporate events

Planned disruptions

Incident notifications
HR updates
Policy changes
Enrollment deadlines
Office announcements
Reminders; timesheets, invoices and expense reports
Staffing & rostering
Availability requests
Schedule updates
Rostering changes
Time-critical communication
When time is of essence, it is important to have the capacity to deliver messages at speed. When the message is critically important, successful delivery is vital such as:
Emergency notifications and alerts
Security alerts; lock down, evacuation
Employees are often overloaded by emails and some aren't always at their desktop to check their inbox, because they are offsite, in meetings or part of the mobile workforce. This can result in information getting lost or delayed that could, in turn, affect the operational productivity.
Using mobile messaging as a channel of communication can help to deliver information timely so employees don't miss out on important info – no matter where they are. And even if your employees aren't supplied with a company mobile phone, it's likely they will have their own personal phone, so they still can be reached.
Two-way communication
The biggest benefits of receiving text messages, is that SMS is more likely to get attention than an e-mail or app-notification (due to the reluctance to download apps or too many apps ). SMS also allows two-way communication, providing a feedback loop and opportunity for employees to response, when needed. Two-way communication is useful for:
Surveys & feedback
Notifying employees and reserve staff of available shifts
Sending reminders and correct errors
Confirmations or reservations
Very often, organizations lack a consistent mechanism for employee feedback. Mobile communication provides both an increased level of transparency and accessibility to voice ideas and feedback instantly. Mobile communication may also help to:
Achieve compliance
Improve employee engagement
Deliver improved business productivity
Grow company culture
Increase employee satisfaction.
Sharing information with your employees via mobile messaging shows that implementing an internal communications system doesn't have to be difficult.
Do you need a reliable business messaging platform to communicate with your team?
We are here to help. Fill in the form and we are happy to discuss your needs.